November 2022
More great reviews on our new album…
The Gibson Brothers-
"You folks should be really proud. Very enjoyable listening. I really like your song choices. Strong material is so important. So far, my favorite tracks are "My Hearts Own Love", Matt's original "C & O", "Paul and Peter Walked",  "Wild Geese Cry Again" and "Windy City". Your music is real and honest, just like you guys. Congratulations." Eric Gibson
"Erica Brown and the Bluegrass Connection's new album, Blue Pine Moon, is a true comfort to my ears. Honest and heartfelt vocals, fine picking and good song selection combine to make an album that reminds me of what made me fall in love with bluegrass in the first place. Congratulations and carry on!" Leigh Gibson
Jonathan Edwards-
"WOW! You guys sound just great!! Sounds are good, tunes are good, and performances are flawless. I love it!"
Rick Lang-
"From the very first note to the last one played "Blue Pine Moon" is a treat to the ear. Great song selection and stunning performances throughout. Erica, Matt and their talented band mates hit a home run with this new release, can't stop listening. If you haven't already, do yourself a favor and check it out. It's a must have for any lover of good Bluegrass music!"
August 2022
We have been getting some really nice feedback about our new Erica Brown & The Bluegrass Connection- Blue Pine Moon album! Check out these reviews:
The first review of our new album from Jeff Trippe that was published in the Bluegrass Music Association of Maine's June newsletter-
"When the sound is right, you know it within the first few seconds…or in the first two measures, if that's how your brain works. With Erica Brown and the Bluegrass Connection's new record, Blue Pine Moon, you'll never have to play the "Is it bluegrass?" game. From mandolinist Matt Shipman's opening stroke to the everybody-in fiddle tune finish, there is no doubt about this album's pedigree. All the elements are in place: precise, professional musicianship; excellent timing and tone; and a varied song selection that includes numbers from the likes of Hazel Dickens, Bobby Osborne, and Jim and Jesse McReynolds. Still, the skeptic may ask, "Is all of that enough, though? I mean, there are lots of good pickers around. But do they play together? Is the chemistry there, the old magic?" Short answer: Yes. It is all there.
Like any truly good record in any genre, Blue Pine Moon covers many miles. The band's rendering of songs such as Osborne's and Pete Goble's "Windy City" (a marvelous showcase for Erica Brown's vocals, by the way) and "When Your Phone Don't Ring (It'll Be Me)," by Hank Cochran and Glenn Martin, reminds the seasoned listener of the meaningful connection that once existed between bluegrass and country music – old country, that is, real country music. They harken back to the days when one could usually find a couple of Bill Monroe songs on a good honky-tonk's juke box.
The songs take us to other places, too, each of them worth the ride. For instance, Ronnie Bowman's "Longing for the Old Days" seems handmade for Lincoln Meyers' warm baritone, and Chris Stuart's "Paul and Peter Walked" is offered up with the verve and cadence of an old-time camp meeting. Meanwhile, Matt Shipman has chipped in a couple of well-crafted working-man songs, entitled "C&O" and "Timberline."
As an instrumentalist, Erica Brown is well-regarded for her versatility, having played for years in the French Canadian and Irish traditions, but her contribution to this collection, the Kenny Baker-esque "Moonstruck Waltz," attests to her mastery of bluegrass at this point in her career. The sense that all of the puzzle pieces have found their proper places seems to have occurred to her as well, as she recently told BMAM: "This is the very first Erica Brown & The Bluegrass Connection album. I've recorded several solo albums in the past which have featured members of the band but this is the first full length album as a band. Jason Phelps at Acadia Recording was a dream to work with… Pat Keane (also at Acadia) did a fabulous job with the mastering. When you combine their skills and talents, you end up with a top notch sounding album."
Clearly, there is much more to say about this record than a few column inches can accommodate. The more the listener digs, the more it shines. Erica's singing and fiddling demonstrate considerable maturity and command, and her abilities are well complemented by Shipman's lively picking and unadorned vocals; Eli Gilbert's banjo playing shows the kind of finesse and clarity that can only result from hours, weeks, and years of practice; Lincoln Meyers' guitar playing, as always, brims with power but is still somehow restrained and tasteful; bassist Kris Day does not simply "hold things down"; he stokes the fire and drives the engine. Best of all, the Bluegrass Connection is a unit: they make space for one another, they support one another. Everyone plays on every tune, and everyone contributes to the vocal palette. Put it all together with the accomplished Jason Phelps in front of the studio soundboard, and you can't really go wrong.
The result is a very fine album that expresses an abiding love for this great musical form. To order Blue Pine Moon and to learn more about Erica Brown and the Bluegrass Connection, visit ericabrownonline.com. This album is not available for streaming."
Here's what Joe K. Walsh has to say about our new album!
"On their new record Blue Pine Moon, Erica Brown and Matt Shipman continue their streak as the leading lights of bluegrass in northern New England. All the reasons that they're beloved by bluegrass and acoustic audiences are on full display here: great originals, tight harmonies, graceful renderings of some choice older tunes, and a stellar band featuring some of the finest pickers you could hope to find."
May 2022
New Album Pre-Sale!
We are excited to announce The Bluegrass Connection is making a new album! Recorded at Acadia Studios with Jason Phelps. The album features a mix of original, traditional and songs by some of our favorite bluegrass songwriters. We are currently taking Pre-sale orders on our GoFundMe page as well as our CD's page
Click here ro pre order:
Why pre-order the album you ask? Well, in addition to getting it before it's officially released, it also helps us cover the upfront cost of making this album. And that is a tremendous help!! As you will read in the description of our GoFundMe campaign, this project is going to cost $10,000. Lucky for us, we have a very generous donor willing to match your donations dollar for dollar up to $5,000! So every dollar of your purchase or donation will go twice as far!! We can't thank you enough for your support, and we hope you enjoy our upcoming album!
We also have some really fun gigs coming up this Summer and Fall, including a collaboration with the Bangor Symphony Orchestra at the Kingfield POPS in June. Check our schedule for the most up-to-date schedule. Come join us when you can!
June 2020
May/June 2020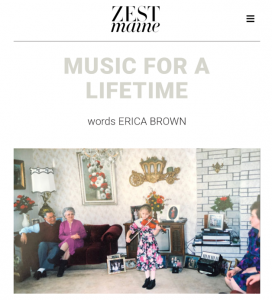 I was 6 when I picked up the fiddle for the first time, and had no idea how it would change my life—the people I would meet and the places I would go, all because of music.
Starting with classical music, I took private lessons and played in youth and college orchestras. But just a couple years into lessons my curiosity about other styles of fiddle music arose.
My familial musical influence was my Pepere, my mom's dad. He played button accordion and harmonica and would play and sing French Canadian music—the music of his heritage—for my brothers and me when we'd visit. Unfortunately, he passed away soon after I began taking lessons but his music really stuck with me.
At 8, I began taking French Canadian fiddle lessons from Don Roy. Roy is an incredible French Canadian fiddle player, born and raised in Maine. He and his wife, Cindy Roy, received a National Heritage Fellowship in 2018 from the National Endowment for the Arts for their contributions to French Canadian music in Maine. I was Roy's first student and though he was reluctant to take me on at first because of my age and that he had never taught anyone before, he agreed to give me one lesson to see how it would go. During that first lesson he quickly realized I was serious about wanting to learn the tunes and techniques he was teaching. That lesson brought with it a friendship to last a lifetime and we are still making and writing music together to this day.
The next step, at age 9, was joining The Maine French Fiddlers, a band led by Roy. The group comprised Roy's wife, his uncle Lucien Mathieu, his cousin Louis Mathieu and a few close friends. Every band practice or concert was like going to Disney World. I looked forward to learning the material and arrangements and most of all playing music with this incredibly supportive and fun group. Despite my young age, it never got in the way of us being able to come together and play music for hours on end. Music has a way of doing that. It brings people together no matter what the differences, which is such a gift. My supportive parents were willing to drive all over New England and Canada for various performances and fiddle contests, not to mention the many years of commuting to weekly lessons from various teachers statewide.
Uncle Lucien became like a grandfather and introduced me to bluegrass. I was immediately hooked and my family and I started going to several weekend-long bluegrass festivals around New England every summer. When the Maine French Fiddlers disbanded when I was about 12, I started diving into the bluegrass repertoire, including singing. So after many years of prodding and encouragement from family and friends, at 16 I started to sing. Within a couple of years Erica Brown and The Bluegrass Connection was born, and is still alive and well, performing all over New England and Canada. I've been so lucky with the incredible musicians who have been part of the band over the past 18 years. They all feel like family to me.
Ten years ago I met my now husband, Matt Shipman. We started playing as the duo Darlin' Corey—named for the well-known American folk song—just a couple years after we met. Matt sings and plays guitar, mandolin, clawhammer banjo and bouzouki as well as writes original material. In addition to singing and playing fiddle, I also play guitar. Striving for an eclectic mix, you're likely to hear us play a set of old-time tunes, sing a folk, bluegrass or even country song. Add to that a smattering of original material and we'll even throw in an Irish or French Canadian tune for good measure.
From the left: Josephine County's Colleen Raney,
Hanz Araki, Erica Brown and Matt Shipman.
Photo: Jullian Lancaster, 22 Pages Photography
Four years ago Matt and I crossed paths with Colleen Raney and Hanz Araki from Seattle who were visiting Portland and had joined one of the many Irish sessions that happen in Portland every week. Incredible Irish musicians, we took a liking to their playing and singing immediately. Better still, we found out they were going to be moving here within the next few months, so I took it upon myself inundate them with house listings in my neighborhood, hoping to persuade them to move close by, which they did. The whole idea was if we lived near one another it would be easy for us to get together to play music. But I should have known that would prove nearly impossible given how busy we all were performing in our various projects.
As Raney tells it: "We're very lucky to have so many friends in the music industry in Maine, but one of the challenges is that we never get to spend any time together because we're always working during normal 'hanging out' hours. There's a joke among musicians that the only way to see your friends is to book a gig with them, and in this case, it's absolutely true. There is a wonderful weekly night of Irish and Irish-adjacent music at Blue in Portland, organized by Tom Rota for the past 15 years, and we decided to pick up one of those shows for the four of us as an excuse to play music together after a couple of years of attending each other's shows and genuinely enjoying the music being played. We thought it might just be a fun thing to do once or twice a year around town when things were quiet. Considering that was in July 2017, I think we might have underestimated things a little bit."
One of the biggest challenges we found after booking this performance was not coming up with music to play but rather what to call ourselves.
Araki explains the origin of our group's name: "Naming a band is really hard. Josephine County is a county in Southern Oregon. Colleen and I grew up on in the Pacific Northwest and long drives are just part of the job. They're also fertile ground for weird conversations. On one of any number of drives we took down Interstate 5 to California and back, we decided that if we ever had a country band, hers would be Josephine County and mine would be Jumpoff Joe. When we made the decision to do a show as a quartet, we thought it would be so much tidier to have a band name than listing all four of our names, and because the name Josephine County was in the offing, we went with it. Even though we're not a real country band, with Erica and Matt, we get close enough."
We all come from such diverse musical backgrounds and I've really enjoyed the process of finding interesting ways to combine our various styles of music to create our unique sound.
My husband sums it thusly: "I think the thing I like most about this band is that we all appreciate each other's different musical styles. I think what can happen sometimes as a musician is we can get too pigeonholed and narrow-minded in our own genres. That being said, one does have to be a serious student of a genre before you can even begin to study another one. But the willingness to listen, appreciate and to even play another genre can be a great learning experience. It can help you rediscover and grow your own musical identity while learning something new.
"I think everyone in this band has 'moonlighted' in each other's genres and so we can truly appreciate where we all are coming from. For instance, bluegrass and Irish music grew and continues to grow almost side by side for me. I think of myself as more of bluegrass/folk musician because I started writing songs and playing bluegrass and old time music first. But then I look back and think, I've playing the bouzouki at Irish sessions and with bands for almost 20 years now. The music scene around Portland is so rich that I feel really lucky to have the opportunity to continue to learn and grow because all of my amazing musician friends around here.
"I think another cool thing about Josephine County is that everybody in the band is a strong singer. Having four vocalists, song interpreters and writers in the band is so great and it gives the audience a chance to hear from everyone as a lead and harmony singer, which I think people really appreciate. Three- and four-part harmonies are really fun to sing. And because everyone is a singer, we treat each other with musical respect when we each sing and do our best to accompany and make that singer and song be the best it can be.
"The fact that there are so many different instruments and options also keeps things interesting. We have clawhammer banjo, fiddle, many types of flutes and whistles, bodhran, three different guitar tunings—two often going at the same time, which I love. I love all the diversity this band brings to the table. It's fun to have all these different sounds and tools to use. And everyone gets along, and that's important. We're all good friends."
Islandport Magazine
(Summer 2017)
Erica Brown: Bluegrass Darlin'
By Scott Sell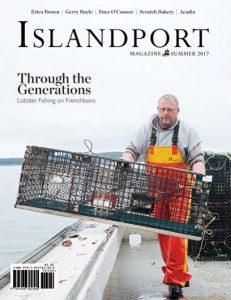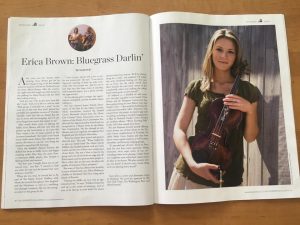 A few years into her Suzuki violin training, Erica Brown got bit by the bluegrass bug. It hit her hardest when her parents took her to Portland to see her hero, Alison Krauss. After the concert, the eight-year-old caught up with Krauss in the parking lot where Brown told her she'd been taking lessons.
"And she said, 'Oh, do you have your fiddle?' I said, 'Yeah, it's in the car' and she said, 'Well, go get it and play me a tune!' So she took me on her tour bus and I played her probably the squeakiest version of 'Twinkle, Twinkle, Little Star' she ever heard. But she was so sweet and encouraging, and I'll just never forget how much that meant to me."
After nearly thirty years of playing the fiddle, Erica Brown still isn't sure why she picked up the instrument at six years old. There wasn't a lot of music played in her Lewiston household. She hadn't even heard much violin music before. But whatever the reason, she knew it was the very thing she wanted to spend her life learning.
Once she finished classical lessons, she shifted her focus to fiddle music and began studying under Don Roy, the great Franco-American fiddle player, who became a lifelong friend and mentor.
"The first tune I taught Erica was an advanced tune," says Roy. "I wanted to find out what she had and she learned that tune without a stumble."
When she was nine, he invited her to be a part of The Maine French Fiddlers, with whom she toured throughout New England and the Maritimes, as well as a week long tour through Louisiana. She was the youngest player in the group by far.
"I was a pretty driven kid as far as music was concerned," she says. "I was always big-eyed, wanting to keep up with everybody who was around me. And for me to hop into this huge circle of amazing, well-respected players was a pretty incredible opportunity."
As her playing grew stronger, her opportunities multiplied, and the accolades began rolling in.
She was crowned Junior Female Entertainer of the Year by the Maine Country Music Association, received the Harold Carter Memorial Award from the Down East Country Music Association, was a recipient of the Maine Arts Commission Traditional Arts Apprenticeship Award and was recognized as a Master Artist by the Maine Arts Commission. She has released six solo albums and tours regularly throughout New England and the Atlantic Maritimes.
"Erica has always been poised and good at what she does," Roy says. "When I asked her to join our family band The Maine French Fiddlers she bonded instantly with my Uncle Lucien and the two of them were a major part of our shows. She was a blast to have in the group and a lot of fun both on stage and off. Erica's music and her persona draw people in. She is a first-class act that says a lot about the quality of musicians Maine produces."
But none of that has affected her humility or sense of hard work, said Alden Robinson, a fiddler in Portland's The Press Gang and a friend of Brown's.
"Playing the fiddle can turn into an egotistical activity," he says. "Fiddlers frequently end up as the center of attention, and it's easy to let that go to your head. I've always admired that Erica doesn't. We'll be playing along for a while, and suddenly I'll realize that we're absolutely kicking ass! Not just me or Erica, but the whole sound. And that's because she puts every ounce of her considerable talent into making the whole band sound good, not just herself."
In addition to a handful of side projects, she plays regularly in two bands: Erica Brown and the Bluegrass Connection has been going strong for over fifteen years and Darlin' Corey- a duo with her husband, the multi-instrumentalist Matt Shipman- has turned from side project to regular gigs and recording, including the monthly engagement at Blue in Portland. Darlin' Corey released an excellent album, "When Evening Falls" in late 2016 that caused some buzz.
She and Shipman recently started offering music lessons out of their home in the Nason's Corner neighborhood of Portland. It's called Darlin' Corey Studios and they have about twenty regular students as well as jams, ensembles, and harmony singing groups.
"It's a peaceful part of town. You're in Portland but you have some quietness. Being musicians, we're super aware of our surroundings when we're playing. I don't think our neighbors even realize how much music we play in our house. We play acoustic music, you know? It doesn't carry. Good thing we're not playing heavy metal!"
Fiddle On Fire
Monday, April 10, 2006
By ANN S. KIM, Staff Writer
LEWISTON — When Erica Brown was just a tot, she would sit on her grandfather's knee and listen to him play French Canadian tunes on the harmonica. When he stopped, she'd push his hand back toward his mouth to keep him playing.That love of French Canadian music has been with Brown from the time she picked up the violin at age 6 and into her career as a fiddler.
At age 22, Brown has 13 years of professional performances to her credit, three CDs released under her name and her own band, Erica Brown and the Bluegrass Connection. Considered a master of a traditional art by the Maine Arts Commission, Brown also finds joy in passing her musical heritage on to a number of students.
She does all this while juggling a couple of office jobs, working on a fourth CD and attending school full time at the University of Maine at Augusta, where she's pursuing a degree in jazz and contemporary music, with a concentration in audio recording.
Her accomplishments are unusual for someone her age, said Greg Boardman, Brown's first teacher who is the orchestra director for the Lewiston public schools and a fiddle instructor at Bates College.
"She had love, she had talent and the drive," Boardman said.
Brown's first performances were with Maine French Fiddlers, a group that has since disbanded. Don Roy, a fiddler and another of Brown's former teachers, introduced her to that group and watched her performance up close.
Roy said Brown brings a liveliness and creativity to her music.
"For the music of her heritage and her age, there's no one any better," Roy said.
Brown doesn't remember just how she decided as a child to pursue the fiddle, but she's loved the instrument as long as she can remember.
"I never wanted to take a break from it. I never tired of it," she said.
Brown has 13 years of classical violin training under her belt but prefers fiddle music with its improvisation and sense of fun. She plays the same jigs, reels, hornpipes and waltzes played on the harmonica and button accordion by her maternal grandfather, Edmond Parent, who lived in Grand Isle, by the New Brunswick border, before moving his family to Lewiston.
For Parent, music was about entertainment, not performance, something he'd do with buddies after a long week of work. He'd learn new songs in these sessions, as he never learned to read sheet music.
It's a different world for Brown, who makes a conscious effort to keep the tradition vibrant. It makes her a bit sad that the bands at Franco festivals are often from Canada and that after performances, someone may tell her it's been so long since he heard such music.
So Brown is excited when young people get hooked on the music.
On a recent day, in the basement office of the house Brown lives in with her parents and three brothers, Brown was giving a lesson to 13-year-old Christie Michaud of Greene.
Brown was a patient and pleasant teacher as she showed Christie how to press in on the strings to get the desired choppy sound in a dotted hornpipe. Brown also identified why Christie's bowing was awkward in the triplets of one song and explained the remedy – playing more than one note in a stroke to get the bow moving in the right direction.
Brown was encouraging as she played a new song, smiling as she told Christie it was easier than it sounded. Brown played and explained the components before they played together. They then worked a bit on improving Christie's rhythm.
"See, you fixed it just by hearing me play it. It's fixed," Brown said. "Cool!"
Christie receives her lessons through a traditional arts apprenticeship run by the Maine Arts Commission.
Brown, who had been an apprentice under Roy, is one of the youngest masters in the program, which includes a range of traditional arts, from quilting and basketweaving to step dancing and Cambodian music, said Keith Ludden, a community arts and traditional arts associate with the commission.
Christie had wanted to play fiddle since she was little and eventually her parents got her an instrument on eBay. The family approached Brown about lessons after a performance.
Brown saw a little bit of herself in Christie.
"Her interest and excitement in this music reminds me of myself," Brown said. "She would play all day if she could."
---
Erica Brown
Fiddler, Lewiston
New Favorite
December, 2003
Erica Brown's musical sensibilities are so well developed that if you play a tune for her, she can repeat it on the fiddle.
"My classical training has helped me tremendously—it's great training for your ear," says the 19-year-old violinist, who applies classical techniques to the rootsy freedom of bluegrass music. And people are listening.
Brown has performed for audiences from Canada to Louisiana, earning a reputation on the festival circuit. Last year, for example, she opened for Dwight Yoakam at the Maine Lobster Festival, performing for 8,000 fans. Through her travels, she's met other legendary artists like Kenny Baker and—her idol—Alison Krauss. "I love her to death," Brown says. In October, she received the 2003 Junior Female Entertainer of the Year award from the Maine Country Music Association.
With a soft voice, masterly skills on the violin, and the look of a young LeAnn Rimes, Brown's star appears to be brightening. She has recorded, produced, and released three CDs of her own—the latest of which, Imagine That, is her first vocal effort—and continues to perform live shows. Brown first got into music at the age of 6, after hearing her grandfather play the accordion and harmonica; and ever since then, music has been her life. Now, with 13 years of experience and her own band, The Bluegrass Connection, Brown is a young veteran. She plans to become an audio engineer after graduating from the University of Maine-Augusta with a degree in music production, and produce not only her own work, but that of other musicians as well.
But her inspiration—and fame—will always be rooted in live performance, which, she says, is "my favorite thing to do."
—Andrew King
---
Not Fiddlin' Around
Erica Brown is a little bit country, and a little bit classical.
By Dale McGarrigle, Of the NEWS Staff
Last updated: Tuesday, February 12, 2002
For more than a decade, the Lewiston teen has taken her violin playing in two widely divergent directions. For the past five winters, she's been a violinist in the Bates College Orchestra, conducted by Bill Matthews. But from spring through fall, she's a fiddler, appearing as a solo act at about 25 percent of the Old-Time Radio Gang's New England shows as well as headlining her own bluegrass quartet.
Brown said that she finds the precision of classical more difficult than the spontaneity of country fiddle. "With classical, you have to read the sheet music and do what it says," explained the 18-year-old in an interview at her Lewiston home.
"You have to play everything like your partner, because if you don't, someone will hear it.
"In fiddle, you don't have to play the same way every time," she added. "It gives you a lot more freedom." It's not every senior that has already recorded two CDs (1999's "Bowing the Strings" and last year's "Just Taking Notes"). But then, not every high school musician has the willowy blonde's talent.
"She's among the top two or three fiddlers in New England," opined John Rock, bass player for the Old-Time Radio Gang and a longtime friend of Brown's. "For her age, she's an incredible performer," agreed Allan "Mac" McHale, the Old-Time Radio Gang's leader. That's because Brown has been playing from a young age: "I don't really remember when I started. I just picked it up one day, and I liked it."
She credits her grandfather, who played accordion and harmonica, for her passion for music."I heard a lot of music from him, and I loved to listen to music when I was little," she recalled.
Shortly after she developed an interest in violin, Brown began taking classical lessons ("I've had so many teachers, it's hard to remember them all.") She's now studying with Ronald Lantz, second violinist for the Portland String Quartet.
Lantz said that while Brown has a burgeoning fiddle career going, continuing classical training has been beneficial for her.
"It's kept mechanics and technique sound, and her playing sharp," he said. "She's quite a lovely player, well above average as a classical student." Rock agreed with Lantz about the value of Brown's classical training.
"She's meticulous," Rock said. "She studies music theory and has formal training. When she plays a tune, there's no second-guessing. The timing and intonation are impeccable."
Brown said she hasn't gotten any attitude about her country leanings from her classical peers. "They all have been really supportive," she said. "I know there are some that are snobbish about fiddle music, but I haven't run into them yet."
Brown "slowly wandered off into the fiddle part of things," and studied for several years with Don Roy of Gorham, whom she calls "my mentor." By age 10, she was performing with the Maine French Fiddlers, and would go on to tour New England and Louisiana with them.
It was around this same time when she met Rock, when both were playing at the same New Hampshire venue. "She impressed me big time," said Rock, who played on Brown's first CD. "She was 10 years old, and was entertaining a crowd all by herself. She was amazing."
Rock recommended Brown as a supporting act to McHale about four years ago, and the veteran bandleader is glad to have her on board. "She's a great guest," McHale said. "She's well-liked by the public, is very easy to work with, and very talented. People always request her back."
Brown has benefited from touring with such veteran musicians. "I learn a lot from them," she said. "They've been around awhile, and tell me stories about where they've played and who they've met. It's interesting to hear all those old stories."
Both Rock and McHale credit Brown's family, father, Dean, mother, Trish, and brothers, Daniel, Keith and Christopher, for much of her success. (Daniel, 14, plays mandolin in her bluegrass band, which also includes bassist John Saucier and flat-top guitarist Lincoln Meyers, both from New Hampshire.)
"She's a great person, and she's fortunate to have a wonderful family, who support her in everything she does," Rock said. "They're good, wholesome, down-to-earth people." "She's an incredible person, with very strong family ties," McHale added. "She was very well brought up." Brown has been home-schooled since first grade, which she said gives her greater flexibility when it comes to her music. She practices at least an hour a day.
College looms for Brown, who wants to pursue a musical career. She knows her collegiate instruction will be in classical music, but she plans to keep playing fiddle as well. She isn't sure what school she'll be attending yet, but she plans to remain in Maine. "I know it's a hard career to try to follow," she said. "I'll have something to fall back on. I enjoy working with computers, so I'll try to do something with that."
When she's not performing, what does Brown like to do? "Just hanging out with friends, stuff normal teen-agers like to do," she said.
I've met some awesome people in my travels. Here are some pictures of them and some comments.
The first picture is me with Fred Carpenter. He plays with "Larry Cordle and Lonesome Standard Time".
After attending an Alison Krauss And Union Station concert I had the privilege of being invited into their tour bus to play a few tunes.
Here I'm enjoying a visit with veteran fiddler Kenny Baker at the Blistered Fingers Bluegrass Festival.
This one is me with Mark O'Connor.
This picture shows me with Jim "Texas Shorty" Chancellor at the First Annual Mark O'Connor Fiddle Camp.